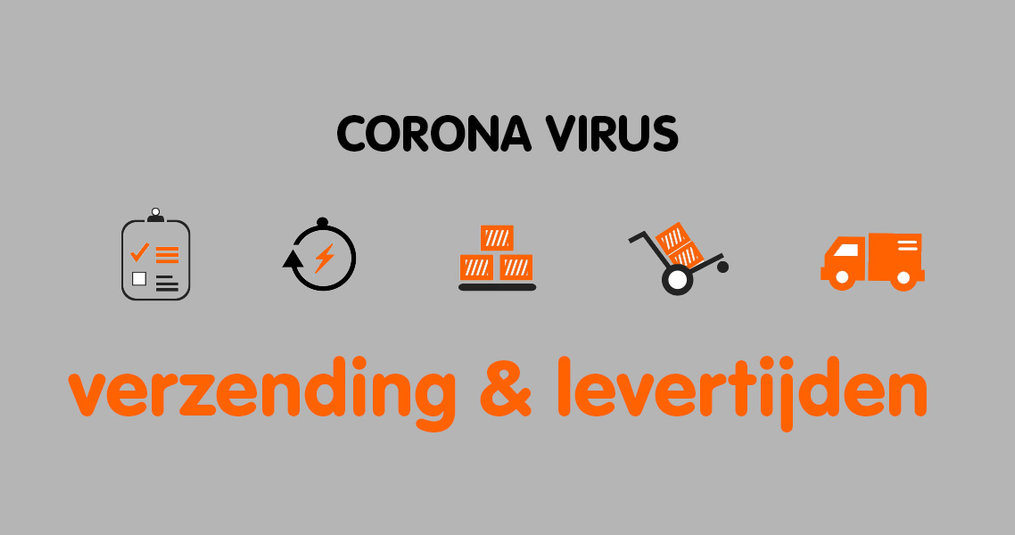 Op dit moment ondervinden wij geen problemen met het op tijd versturen van bestellingen. Dit betekent dat wij alle bestellingen die wij op werkdagen voor 15.00 uur ontvangen, dezelfde dag nog versturen.
Zodra hier verandering in komt zullen wij dit melden in dit blog (Lees onze update van 17.03.2020)
CORONAVIRUS: MAATREGELINGEN / CONSEQUENTIES
Gezien de wereldwijde ontwikkelingen omtrent het coronavirus houden wij u graag op de hoogte over de eventuele gevolgen die dit heeft op onze webwinkel.
Op dit moment ondervinden wij geen problemen met het op tijd versturen van bestellingen. Dit betekent dat wij alle bestellingen die wij op werkdagen voor 15.00 uur ontvangen, dezelfde dag nog versturen.
UPDATE 25.03.2020 :
LANGERE LEVERTIJDEN PAKKETBEZORGERS -> Door de toegenomen online aankopen is het drukker dan gebruikelijk bij de pakketbezorgers zoals DHL. Hierdoor kan het zijn dat het pakket niet de volgende dag wordt afgeleverd. Wij verzoeken u vriendelijk om geduld te hebben. Mocht u na 3 werkdagen nog steeds niet ontvangen hebben, stuur ons dan een berichtje, dan zoeken wij voor u uit wat de status van de bezorging is.
UPDATE 17.03.2020 :
MOGELIJKE VERTRAGING INTERNATIONALE VERZENDINGEN -> Een aantal van onze artikelen versturen wij vanuit de fabriek in Frankrijk. Deze pakketten kunnen door drukte aan de grenzen wat langer onderweg zijn dan gebruikelijk.
ONS MAGAZIJN / LOGISTIEK
Onze logistiek is op dit moment nog volledig operationeel. Wij verwachten ook dat ons logistiek center geopend blijft. Uiteraard volgen wij nauwlettend het RIVM beleid en nemen voorgeschreven richtlijnen en maatregelen met zorg in acht.
VERZENDING
Bestellingen verzenden wij met DHL. Met betrekking tot mogelijke leverproblemen meldt DHL het volgende op de website:

BEZORGING IN DE BENELUX
DE VERANDERINGEN DICHTBIJ HUIS
In Nederland, België en Luxemburg zijn alle gebieden bereikbaar voor het bezorgen en ophalen van zendingen. Dit zijn de wijzigingen in onze services vanwege het virus.
Gesloten adressen
Geeft u een zakelijk adres op dat gesloten is door het coronavirus, ook dan stuurt DHL uw zending terug.
Afhalen van zendingen
Het afhalen van een zending op een DHL Terminal is alleen mogelijk in Nederland. In België zijn deze locaties gesloten. Overige DHL locaties in de Benelux zijn gesloten voor extern bezoek.
Bezorgduur
Minder contactmomenten tussen DHL punten en bezorgers helpt verspreiding van het virus te voorkomen. Een zending naar of vanaf een DHL ServicePoint kan daardoor een dag langer onderweg zijn. De bezorgduur naar de Waddeneilanden is nu 48 uur, omdat er minder boten varen. Texel bezorgen we nog wel de volgende dag.
DHL ServicePoints
In ons DHL ServicePoint netwerk wijzigt er veel; openingen, sluitingen en nieuwe openingstijden. Is een pakje onderweg naar een gesloten locatie, dan proberen we het bij een ander punt af te geven. Pakketten die in een gesloten locatie liggen gaan retour naar de afzender. Check de openingstijden voordat u een DHL punten bezoekt.
WIJ WERKEN VANUIT HUIS
Sinds maandag 16 maart werken wij zoveel mogelijk vanuit huis. Dit zal verder weinig tot geen invloed hebben op onze bereikbaarheid al kan het voorkomen dat we u niet direct te woord kunnen staan omdat de thuiswerkers af en toe ook de papa of mama moeten uithangen.

We verzoeken u vriendelijk om vragen waarbij antwoord niet direct noodzakelijk is, per e-mail naar [email protected] te sturen. Voor meer urgente vragen zijn wij telefonisch bereikbaar via 085-0600891 of stuur je ons een berichtje via whatsapp of via chat.