Nania Revo SP - Rotating car seat group 0-1-2 - Pink
- Car seat group 0-1-2
- 360 ° swivel car seat
- 3-point seat belt attachment
Read the full product description
In a nutshell:
Universal car seat Group 0/1/2
For children from 0-25 kg
Age indication: from 0 to about 5 years old
Type: 360° Swivel car seat
With 5-point harness
From 0 to 13 Kg : transport rearward facing
From 9 to 25 Kg : Transport forwards facing
4 positions reclinable
Comfortable seat reducer
Extra support cushion for children up to 3 months old
Cover is removable and washable by hand
Cover composition: 100% polyester
Safety:
Tested and approved according to ECE R44/04 standard
A car seat produced in Europe (France)
Excellent side impact protection
Installation: With the 3-point car belt
Individual belt tensioners provide additional safety
Belt protectors with anti-slip coating
Product Description
The Nania Revo SP is a comfortable and stylish Group 0-1 car seat which is suitable for children from birth to 18kg/40lbs (approx. 4 years). This car seat is installed in the car using the vehicle 3-point seat belt. The seat rotates 360 degress to enable rearward facing from birth to 10kg, and forward facing from 9-18kg (approx. 9 months to 4 years). The rotation allows you the convenience to put your child into the seat whilst facing the vehicle door, then to rotate into either of the rearward or forward facing positions. It has excellent side impact protection and comes equipped with a removable new born body support cushion, as well as a head cushion and chest and buckle pads for safety and comfort. There are also individual harness tensioners which ensure that both sides of the harness are tightened correctly and safely. The cover is removable and hand washable.
Installing the Nania REVO
The car seat is fastened in the car using the 3-point car seat belt. The seat is mounted differently for each age group. Please read the instruction manual carefully and watch the video at the bottom of this page.
Group 0: Up to 13 KG the car seat is used rearward facing. The Nania Revo comes with an extra cushion for children from 0 to 3 months. This ensures that your child sits flatter and therefore more comfortable in the car seat.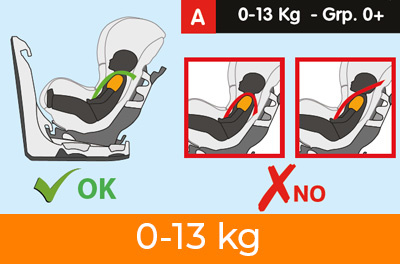 Group 1: From 9 KG the child is already allowed to move in de farwards facing direction. Your child is still secured in the 5-point harness. We recommend that you transport your child rearwards for as long as possible (max. 13 kg).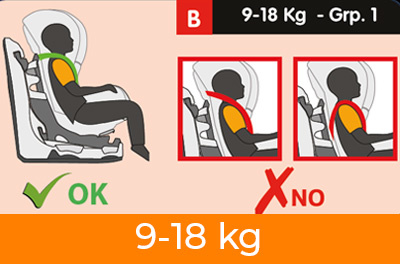 Group 2: As soon as your child no longer fits into the internal 5-point harness but is still properly seated in the car seat, you can remove the harness. Up to 25 KG you can then secure your child in the 3-point car seat belt.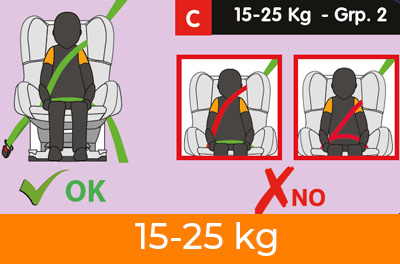 As soon as the seat is properly attached, simply turn the car seat in the desired direction of travel. It does not matter on which side of the car you install the car seat.
Placing your child in the car seat
As soon as the car seat is mounted in the car, put your child in the car seat. Then secure him/her in the 5-point harness. This harness has height-adjustable shoulder straps. The internal harness has an independent shoulder system which makes it even easier to fasten both parts of the harness properly and therefore safely. We recommend that you keep about a finger thickness of space so that you don't tie your child too tightly. On both sides of the harness are a clamping mechanism which can be operated with one hand.
The car seat has a comfortable padding and comes with an inlay cushion. This cover is easy to clean with a damp cloth. We do not recommend washing the cover in the washing machine. Car seat covers are treated with a fire retardant fabric that does not go well with machine washing. The fabric is very wrinkled and feels hard. A well moistened cloth is more than enough to clean the chair cover well again.
The Nania Revo is a group 0/1/2 car seat which complies with the most recent ECE R44/04 approval.
Need help with the installation?
We recommend that you always read the operating instructions carefully. Have you lost it? Then you can download it below.

Installation video
Safety warning: Do not use in a front seat with an active airbag. Try to keep journeys for newborns up to 4 weeks old, no longer than 30 minutes, and for older babies no longer than 2 hours. It is good for your baby to lie flat for most of the day, so if you do need to make a longer trip ensure that you take regular breaks to allow your little one to stretch out for a while away from their car seat.